On my recent road trip around much of the southeastern United States, I was particularly excited to visit the Harry Potter Exhibition. Lucky for me, the exhibition had only recently moved from Philadelphia to Atlanta in October, just a few weeks before the time frame my trip had already been planned for.
Using Google Maps, the exhibition was very easy to find in Downtown Atlanta. The area in which the attraction was located downtown was very nice, and as my plans had me arriving at the exhibit first thing, I was happy to find both a Starbucks AND and a Dunkin Donuts in the vicinity. This made the start of the day extra perfect.
After getting a delicious PSL, I sat outside to watch the downtown Christmas lights being hung while I waited for the exhibition to open. I ventured over and arrived about 10 minutes early, and got to do a little photography of the outside. It wasn't long before a generous employee opened the doors to let me in a few minutes early.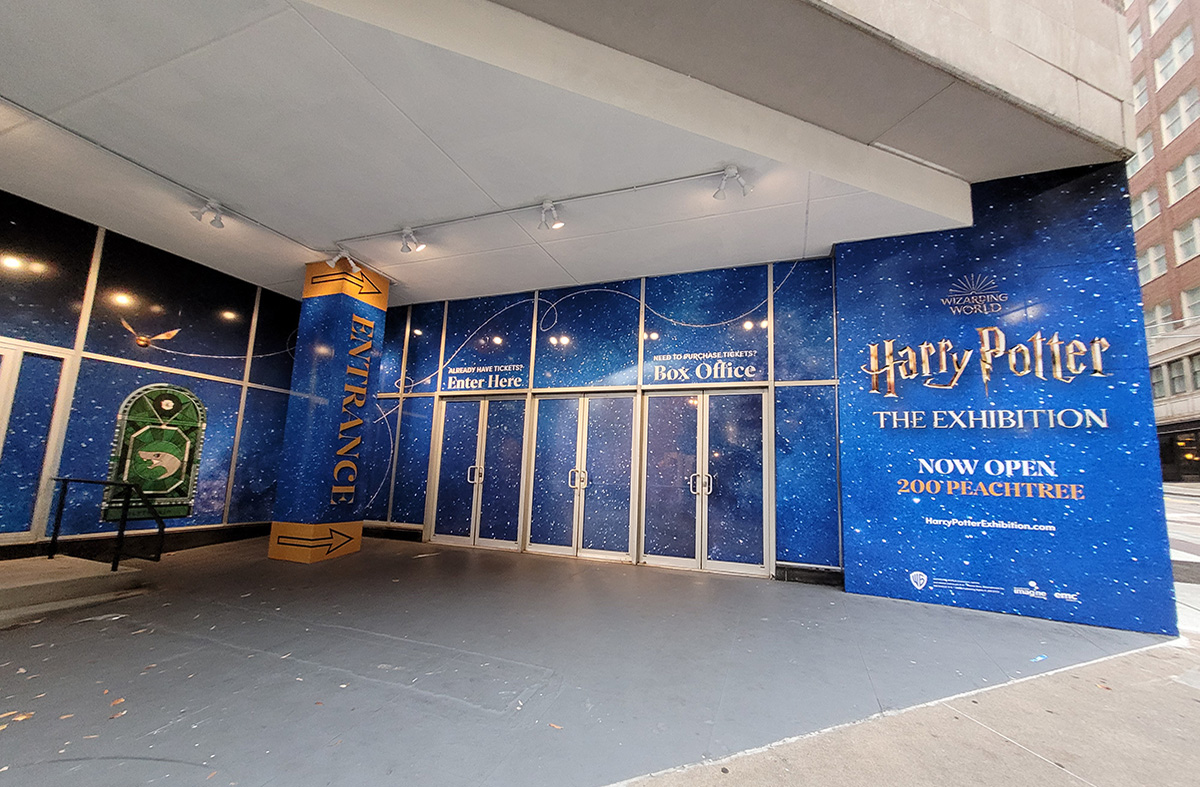 I was immediately transported into the Wizarding World upon entering the building. Surrounded by the music of John Williams, a rush of wonderful memories from the movies and books, as well as Diagon Alley and Hogsmeade at Universal Studios came to the forefront of my mind all at once. I was admittedly misty-eyed for about the first 15 minutes after entering and beginning the tour.
Having pre-purchased tickets made entering into the exhibition simple. The 'witch' at the ticket stand simply scanned my ticket barcode that was in the confirmation email they had sent. Here, I also received a bracelet that would allow me to interact with some of the interactive portions throughout the attraction. It was then time to enter the exhibition!
I started off getting a great photo taken in my robe, and the kind wizard taking my photo convinced me that I should stay in my school robe for the duration of the tour, stating something along the lines of "when else are you going to use them if not here"?? I have to admit, I am extremely happy that he said that.
The first few rooms were excellent, and I won't spoil what was in them. But these would have made the whole trip worthwhile alone. After passing through them, the museum opened up into themed areas that contained actual clothing and artifacts from the Harry Potter movies. I was blown away to see the various collections that they had in these areas. In a Gryffendor-themed area, the exhibition presented costumes and clothing that Daniel Radcliffe, Emma Watson and Rupert Grint wore in Order of the Phoenix. A Ravenclaw themed area contained one of Evanna Lynch's (Luna Lovegood) actual costumes. Needless to say, I was completely blown away.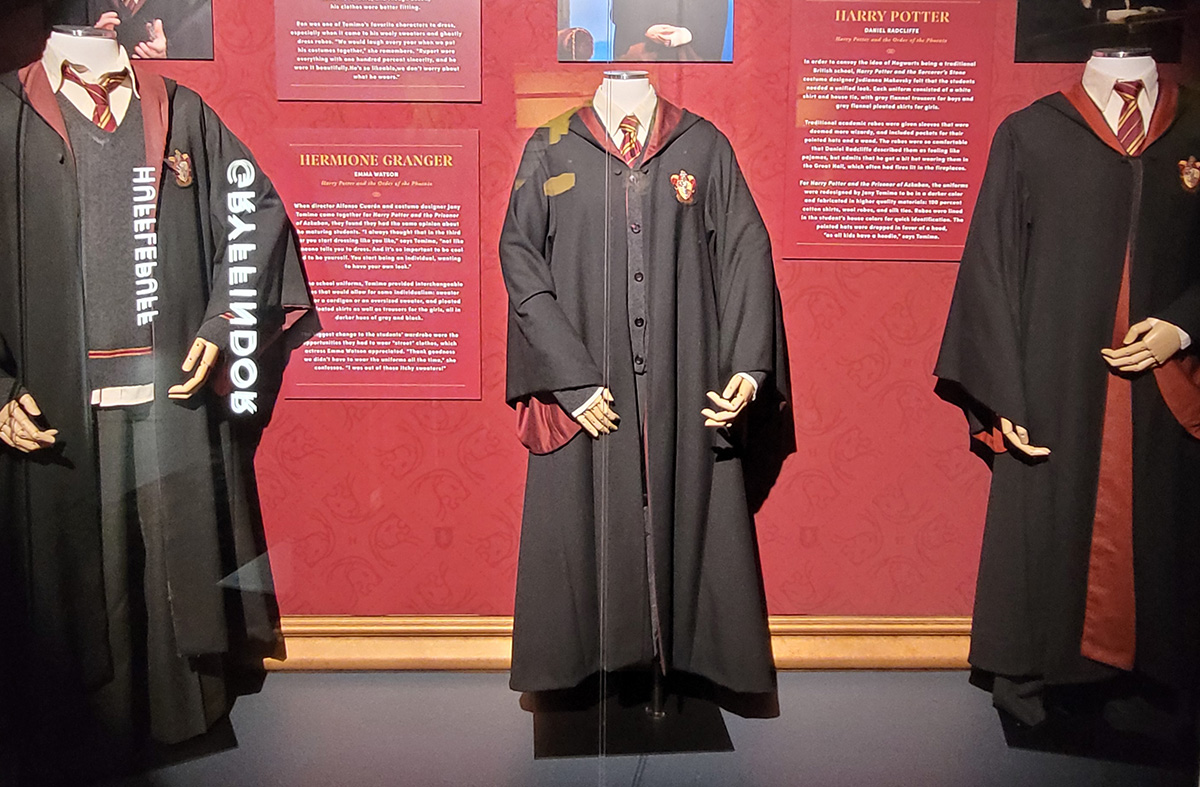 The collections after the house-themed area were categorized by Hogwarts "class" instead of house. Several examples of these classes were Divination, Herbology and Hogwarts Grounds. One of my favorite pieces of movie props was seeing an actual grim cup from Harry Potter 3 – The Prisoner of Azkaban. Some of the interactive elements through these areas were fun, but not quite to the level of the Universal Parks.
After leaving the "class" rooms, there were a few more collections to visit. Again, without spoiling too much, one was a Hagrid themed area and another an area dedicated to the Dark Side. These areas were well done, and I was thrilled to see some of the movie props in the collections.
There was a relatively small gift area after exiting the exhibit portion. I was really impressed by the items you could purchase here, as some of the items there were not even available at the Universal Parks. I was able to locate a great Harry Potter Exhibition button for my bag, and also bought some unique exhibition gifts for my family.
Finally, I had to make a stop at the restaurant located close to the entrance. The ambience and decor inside was well-themed, and it was great just to be immersed in Harry Potter, if only for a few extra minutes. Here, I enjoyed a rum-infused Pumpkin drink, that I have to say (wink), was better than the Pumpkin Juice at the Universal Parks. Even without the rum, it seems like these drinks were tailored more to adults than children.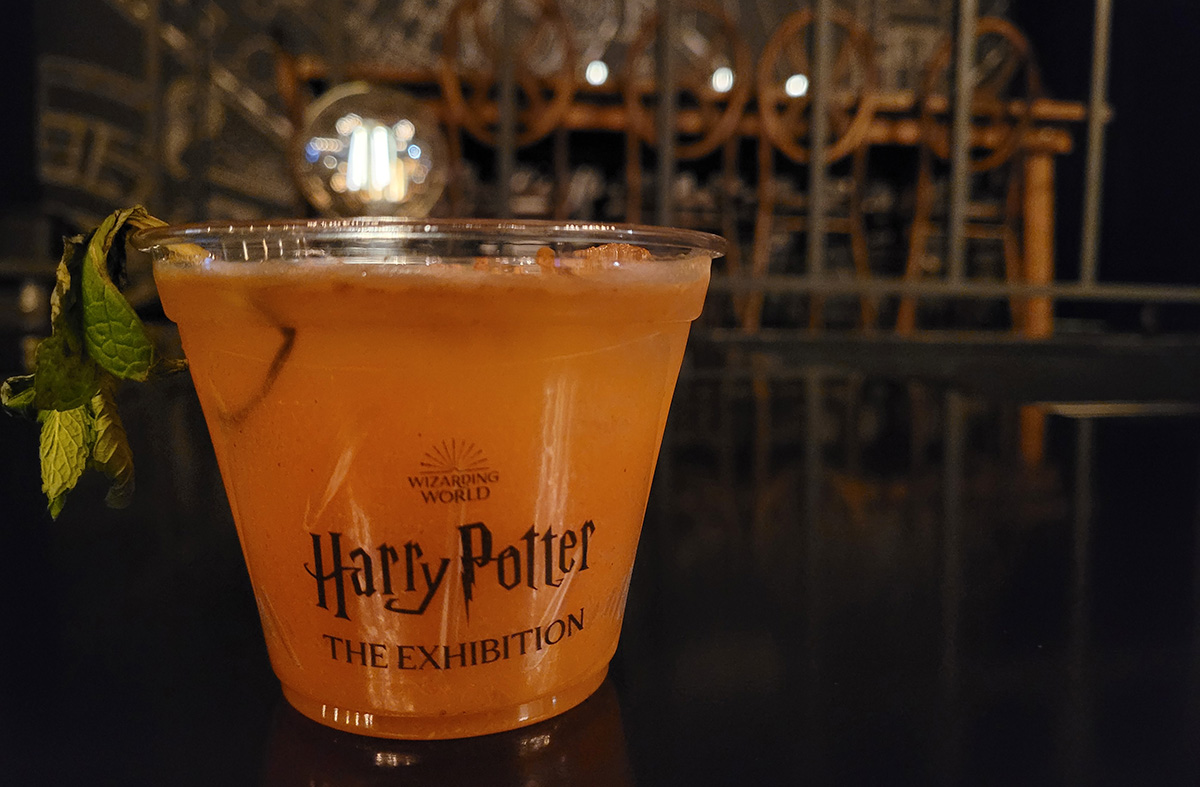 In all, I would say this exhibit is geared more towards young adults and adults. If you have a teen that loves Harry Potter, they will probably love this exhibit. If you are a Harry Potter or even a movie memorabilia fan and find yourself in Atlanta, then stopping here is a must. Children may not understand the awesomeness of seeing actual movie artifacts, but there are certainly elements that they would appreciate. It could potentially get difficult if parents want to stop and read and the kids are ready to hurry to the next room or interactive portion. I absolutely loved visiting and am already ready to go again or visit another Wizarding World attraction.