About
Orlando is absolutely one of the most enjoyable cities in the United States, especially if you have children. There are so many great attractions and theme parks that it would be extremely difficult to run out of things to do.
Many parts of the city are extraordinarily nice. As you drive around various parts of west and southwest Orlando, you could absolutely believe that you were in Beverly Hills. In Orlando, the streets are lined with palm trees and incredibly landscaped.
Facts about Orlando
No one knows exactly how the city got its name, but there are four decent theories.
It was incorporated in 1875.
Orlando is known as the City Beautiful.
According to AP News, Metro Orlando is one of the fastest growing areas in the United States.
It was originally known as Fort Gatlin, the name of the first fort in the area.
Fort Gatlin was built in 1838.
Orlando has 10 sister cities, including Curitiba, Brazil and Reykjanesbær, Iceland.
In its early years, the city was central to Florida's orange industry.
Directions
The two main airports in Orlando are Orlando International Airport, airport code MCO, and Sanford International Airport, airport code SFB. Orlando International is located on the southeast side of the city, and Sanford is located approximately 45 minutes north of the city.
Many travelers flying into these airports will be heading to either Walt Disney World Resort or Universal Resort Orlando. There are several convenient ways to reach these destinations from either airport. Both airports offer rental car services. If you are staying at one of the hotels on the properties and flying into Orlando International, you may be better off using shuttle service provided by the parks. There are buses on the resorts that can get you from place to place.
* Important Tip - Magic Express is the shuttle service provided by Walt Disney World from Orlando International. Be sure to schedule your Magic Express tickets in advance of your flight if possible! *
There are three major interstates that travel close to or through Orlando. Interstate 4 is primarily an east - west interstate, going from Tampa to Orlando to Daytona Beach. In Orlando, it moves nearly north to south. Interstate 4 will take you directly past Disney World Resort, where there are three main exits near Lake Buena Vista. It will also take you directly past Universal Resort a little further north in the southwestern part of Orlando.
The other two major interstates that affect Orlando are I-75 and I-95. Although they don't travel through the city, it is critical for many travelers in getting to the city. These interstates bring many travelers who have come from states north of Florida to Orlando.
Area
The area of Orlando is just under 114 square miles, or approximately 295 square kilometers. The population of the city itself is 275,690.
Things to do in Orlando
Visit and Stay at Walt Disney World Resort. Walt Disney World is the crown jewel of Orlando, and a significant part of the city's growth over the past fifty years. Visiting the theme parks, such as Magic Kingdom and Epcot, is an incredible experience. However, it is important to note that there is so much more at the resort than just the four main theme parks. Check out our page for Walt Disney World for more information.
Visit and Stay Universal Resort Orlando. Like Walt Disney World Resort, Universal has an great selection of theme parks. Here, you can perform magic spells at the Wizarding World of Harry Potter, or summon the volcano at Volcano Bay. Like Walt Disney World, you can stay at one of many hotels located on resort property. A few of these include Cabana Bay and Loews Portofino Bay Hotel.
Ride the Wheel at Icon Park. Originally called the "Orlando Eye", this giant observation wheel can be seen from miles and miles around the city. It actually reaches 400 feet in the air! Though you won't have any difficulty seeing it, it is located on International Drive just south of Sand Lake Road.
Swim with Dolphins and Snorkel at Discovery Cove. There are many activities a Discovery Cove, including snorkeling with rays and even swimming with sharks! Discovery Cove is a hit with kids and adults of all ages!
Try one of Orlando's exciting Escape Rooms.
Drive out to Cape Canaveral to see a rocket launch. In addition to all the wonderful attractions, one of the best parts about Orlando is its location in Central Florida. From Orlando, it is only about an hour to Cape Canaveral, where Kennedy Space Center is located. If you are lucky and find yourself in Orlando at the right time, a rocket launch may be scheduled to launch during your visit. There are a number of great locations near Cape Canaveral, Cocoa Beach and Titusville where you can watch the rockets take off into space!
Join our Facebook Group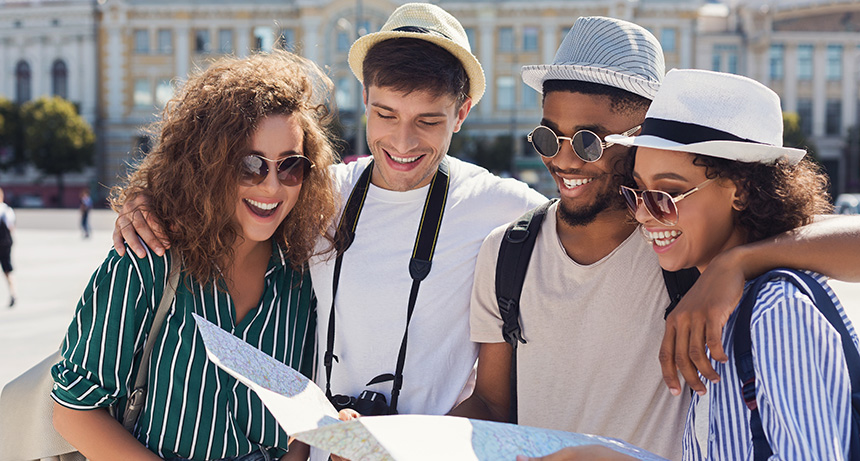 Discuss travel tips, ideas, budgeting and more!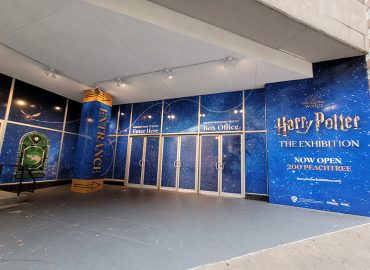 On my recent road trip around much of the southeastern United States, I was particularly excited to visit the Harry Potter Exhibition. Lucky for me, the exhibition had only recently moved from Philadelphia to Atlanta in October, just a few weeks before the time frame... Continue reading→
If you are planning or have been on a cruise, then you are probably aware that one of the major stops for many Caribbean cruises is Nassau in the Bahamas. We were fortunate enough to go on another cruise that stopped in the Bahamas on... Continue reading→
You May Be Interested In