Information
Just off of Highway 71, not long before it reaches the Arkansas - Missouri border as it heads north, is a wonderful small collection of beautiful trails, streams and waterfalls known as Tanyard Creek. Visiting this trail system is a perfect way to enjoy the beauty of Northwest Arkansas without having to venture far off the beaten path. The trails measure just over two miles, and are relatively easy to traverse in a morning or afternoon.
Directions
The easiest way to get to Tanyard if you are in Northwest Arkansas will be by heading north on Interstate 49 and then taking exit 93 at the southern end of Bella Vista at a large interchange to head north on US-71. Follow US-71 for approximately 5 miles before taking exit 98 to Lancashire Boulevard (AR-340). Turn left onto Lancashire and follow it for 1 mile and then turn left again at Nature Lane Trail and you will arrive at Tanyard.
If you are heading south on I-49 from Missouri, you can either go to the same exit, exit 93 and follow the directions above, or exit at US Highway 72 at exit 99. The latter route will be more scenic and possibly a little slower. If you decide on this route, take exit 99 and then head north on Highway 72 and then take a right on Highway 279. Follow 279 for about two and a half miles, and then turn right again onto Lancashire / AR-340.
Facts about Branson Landing
The total trail length is just under 2.5 miles
The name "Tanyard" comes from a tanning yard that was situated near Lake Windsor at the turn of the 19th to 20th centuries.
The trails were started by a number of volunteers including Dave Weimar and Larry Kinsey in 1991. The local VFW and the Bella Vista POA also provided assistance in creating this wonderful trail system.
Dogs are allowed to be walked on the trails as well, but must remain leashed and must be picked up after.
Massive flooding caused substantial damage to the trails in August of 2013. The flooding was so bad that it caused all of the trails to be closed for several weeks, and a good portion of the trails were closed even longer.
Attractions Nearby
Northwest Arkansas is a rapidly growing metropolitan area and the number of amenities and things to do there are growing rapidly too. In 2011, a new art museum called Crystal Bridges became nationally known for its unique design and art collection. It, along with the new hands-on science museum called the Amazeum, are both located on the northern side of Bentonville.
The food scene in Bentonville is gaining national attention, too. Tavola Trattoria, Pressroom, Table Mesa and Yeyo's are just some of the new and exciting dining destinations located in the heart of downtown Bentonville. The downtown Bentonville area can be reached from Tanyard in just about 15 minutes, too!
If you are willing to travel further south to Fayetteville, the downtown square area of Fayetteville is one of a kind. On Saturday mornings you can find an outstanding farmers market with live music all around the square. There is also a wonderful aviation museum at Drake Field, and if you are looking for a slightly more challenging hike, Devil's Den is just a little further south in West Fork.
Things to do
The most notable sight at Tanyard is its largest waterfall. This waterfall is located along the eastern loop, which can be found by turning left after you cross the Dave Weimar bridge heading south. By entering the loop one of two ways, you can view this waterfall from an overlook or from the very bottom after the water turns around a bend. Both sides offer exceptional photograph opportunities, with the bottom being particularly photogenic.
Near the waterfall is another bridge which leads to the longest loop on the trail. If you are looking to go for a hike for fresh air and exercise, this is the loop to take.
The western loop, which is opposite the eastern loop and can be found by taking a right after the Dave Weimar bridge, is perfect for exploring nature. On this loop you can find small cave-like structures, a small waterfall, quiet streams and a plethora of various trees and other plant life. There are also small fish and crayfish that can be seen in pooling areas of the creeks and streams.
Places to Stay
Downtown Bentonville has several great hotels and bed and breakfasts. There is a 21c Museum Hotel in the downtown area, which has a modern restaurant with a unique take on country cooking called The Hive. A beautiful bed and breakfast called The Victoria is located two blocks north of the Bentonville Square, which has extraordinary access to Crystal Bridges and all of the wonderful sights and eats in Downtown Bentonville.
A number of hotels are located a little further down Interstate 49, near the Pinnacle Promenade and Walnut Street exits. These include an Embassy Suites, Aloft, Country Inn & Suites and more.
Parking
A parking area is located at the front of the park area. It is suitable for most times during the week, except for the busiest periods on later mornings and early afternoons on weekends.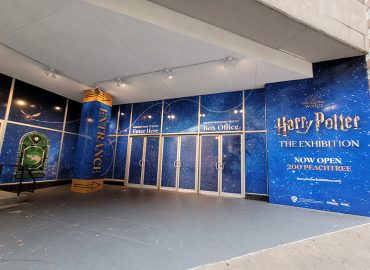 On my recent road trip around much of the southeastern United States, I was particularly excited to visit the Harry Potter Exhibition. Lucky for me, the exhibition had only recently moved from Philadelphia to Atlanta in October, just a few weeks before the time frame... Continue reading→
If you are planning or have been on a cruise, then you are probably aware that one of the major stops for many Caribbean cruises is Nassau in the Bahamas. We were fortunate enough to go on another cruise that stopped in the Bahamas on... Continue reading→
You May Be Interested In